Workshops and Events
Training trainers: Helping Haitian farmers to adapt to climate change, Dec. 3-7, 2018
AREA held a five-day training session on Participatory Integrated Climate Services for Agriculture, or PICSA. The outreach program taught "choice architecture" to agricultural extension agents so they can help farmers make better decisions in the light of climate-related risks.
Below are links to workshop materials to download or view online.
---
Second-generation weather stations for Haiti, Aug. 7, 2018
Training on newly upgraded meteorological stations, including information on the installation and upgrading of existing stations. View and download workshop materials: English | French
---
How to use climate and weather data to reduce climate-related risks on farms, June 5-6, 2018 and Nov. 29, 2018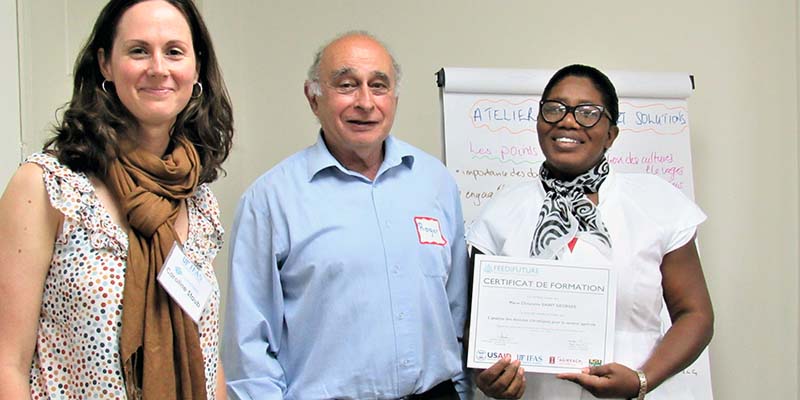 Marie Chrisnette St. Georges (right), a weather forecast presenter with the Haiti Hydrometeorological Unit (UHM), was among 19 meteorologists, technicians and other experts who attended a two-day workshop in June 2018 sponsored by AREA to analyze, interpret and communicate about weather and climate data to agronomists and farmers. The workshop focused on R-Instat, an open-source statistical software used to analyze and present weather and climate data. The event was led by Caroline Staub, Ph.D., AREA's Climate Smart Solutions leader, and Dr. Roger Stern of the University of Reading (England).
AREA provided a refresher workshop on Nov. 29, 2018.
Download workshop documents.
---
Weather station programming workshop, Oct. 26-27, 2017
More than two dozen Haitian professionals from universities, government agencies and farming support organizations learned how to program internet-enabled weather stations during a workshop Oct. 26-27 in Port-au-Prince. The workshop was led by Will Blanc, a Haitian electrical engineer and AREA consultant.
---
Weather station builder workshop, July 17-21, 2017
During a weeklong training, attendees learned to assemble, install and maintain meteorological stations. Watch a video of William Eisenstadt, a professor of electrical engineering at the University of Florida and an AREA research team member, assembling a solar-powered weather station.
Materials